Aloha! Come aboard Pride of America, our only cruise ship that sails round trip from Honolulu year-round so you can vacation on your schedule. As you journey from one exotic island to the next, learn about the Hawaiian culture through the eyes of native ambassadors on board our ship. Island hop Hawaii in style, with more than 15 restaurants and 12 bars and lounges, excellent family accommodations, spacious suites, and balconies – perfect for whale watching, witnessing Kilauea Volcano or taking in the dramatic views of the Napali Coast.
Never been to Hawaii before?  Cruising is a great way to get a grand overview of all the islands.  Each island has its own personality and attractions.  It's also a very affordable way to discover Hawaii.  Pay one price and you have your accommodations (ship cabin of your choice), most meals, and built in entertainment and activities. It's like a floating resort!  The NCL Pride of America is a 7 Day cruise experience departing from Honolulu year round and is the only ship that has an all American itinerary!

Location: Honolulu, Hawaii
Cruise Port: Pier 2 Honolulu Cruise Terminal
Distance from Airport to Cruise Port:  Honolulu International Airport. (HNL) approx. 15-20 mins. away
Pride of America Itinerary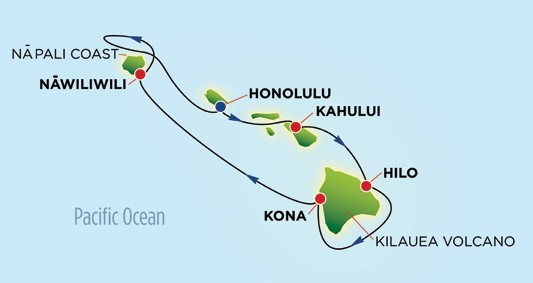 NCL's Pride of America makes a great Hawaiian Cruise "Escape". Perfect for first-time visitors to Hawaii, family vacation, honeymoon, or a destination wedding. Craving some land time? Cruise-tours for the Pride are also available to extend your stay to 11 days.  4 days on Oahu and your 7-day cruise. Want even more? Why not consider a post cruise visit to another island.
Ready to plan your "NCL Pride of America Hawaiian Cruise " escape?  Contact me at karen.holmes@mei-travel.com for special deals, packages and a no obligation quote!
P.S  Traveling solo?  NCL's Pride also has Solo cabins for single travelers.  Savor superior solo travel with stylish features like mood lighting, a full-size bed, and access to the exclusive Studio Lounge.